Christmas Gift Guide
As Christmas draws near, many of us will already be thinking about finding gifts for our friends and family. Whether you are looking for a Christmas-themed gift, or you would rather give something that can be used all year round, we have many varied products for you to choose from, including bibles, childrenís books, greetings cards and even advent calendars!
Bibles
We supply a wide range of bibles, to suit anyone and everyone. This includes topical bibles, childrenís and teens, women, men and much more! Here is just a small selection that we have included in our gift list this year.
ESV New Inductive Study Bible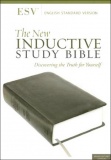 This Gold-Medallion-winning ESV Study Bible was created by Precept Ministries and will be great for individuals who are wanting to gain a closer understanding of Godís word. It solely uses an inductive method of study, which is very unique.
This easy-to-understand study method will give you the tools to:
Go deeper and observe what the text says
Use these observations to interpret what the text says and itsí meaning
Then use these observations and interpretations to apply Godís word to your life
As you read through this Bible, you will discover a host of unique features including:
An easily relatable guide to the inductive study method
Simple tools to help you Observe, Interpret, and Apply it to your life
Then use these observations and interpretations to apply Godís word to your life
Overviews and study tips for every book of the Bible
'Observation Charts' for you to record what you have learnt on various topics
Insights into the history. languages and cultures of Bible times
Full colour; Maps, Charts & Timelines
Wide margins to aid your study
Concordance set to the text of the ESV
Compact overview of how we got our Bible
Summary of Israel's history
One year plan for reading the Bible in a year
Three-year Bible study plan
NIV Beautiful Word Hardcover Bible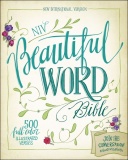 For more creative individuals, the New International Version Beautiful Word Bible offers readers the chance to use their creativity to draw closer to God. Containing 500 pieces of verse art that compliments Scripture, immerse yourself in God's word through your Bible readings and the restful peaceful illustrations found within. This bible also offers wide margins, allowing you to add your own thoughts or illustrations for further reflection later.
Features Include:
500 illustrated verses offer thought-provoking inspiration
Single-Column text
Lined margins for your own artwork and notes
Words of Jesus in red
Trusted New King James text
Ribbon marker
NKJV Giant Print Centre Column Reference Bible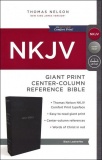 This NKJV Giant Print Bible offers itsí readers a bible that they can read more clearly, whilst also remaining still fairly compact. Instead of sacrificing portability for readability, this bible gives you the full text of the popular New King James Version and offers an easy-to-read 13.5-point text format, whilst also being fairly compact and easy to carry. You will also find a complete cross-reference system, full-colour maps and easy-to-use concordance, giving you all of the resources that you could need.
This bible is perfectly suited for all ages, whether you need it for your daily reading, taking to church or even travelling. This bible is very durable and itsí inexpensive binding offers affordability whilst also looking very classy.
Advent Calendars
Arch Window, Freestanding Advent Calendar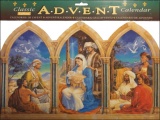 Advent calendars are a great way to think of God every day leading up to Christmas. Instead of just listening to the Christmas story at the end of the month, this calendar will give you and your family a way to experience the story every day as you open a new window. It is designed to help you focus on ďThe Reason for the SeasonĒ and remember the birth of Christ.
This Advent Calendar can be folded in two places to allow it to be freestanding or hung on a wall.
Nativity Advent Calendar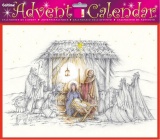 Similarly, to the above product, this paper calendar provides a similar experience, with a different style of imagery, depending on preference. This calendar will offer you and your family to focus on Jesus whilst counting down the days to Christmas! Advent calendars offer a great deal of excitement, particularly to kids and it makes the story of Jesusí birth so much easier for them to understand. Open one window each day from 1st December until Christmas Eve on 24th December!
Children and Young People
Children's Guide to the Bible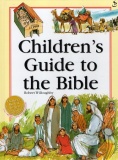 This activity stencil book is a great gift, offering children a creative way to learn more about the Christmas story, and follow along with the story throughout the month of December! This activity pack includes wonderful stencils that you can use to create colourful and creative pictures whilst you read through the story of Jesusí birth!
This charming, fun-to-use interactive book has vibrant illustrations by Stuart Martin, and includes six pre-cut stencils, making it easy for children to create many great Christmas scenes. They are also great for making Christmas Greeting cards for friends and family. Children will be entertained while developing their drawing skills and learning more about Jesus.
Simply place a sheet of paper between the storyboard and the stencil.
Then trace around the shapes carefully, always keeping the pencil towards the outside of the stencil.
And finally, add details and finishing touches to your artwork, using paint or crayons to fill in your picture.
Paraphernalia
You Will Name Him Jesus Nativity Plaque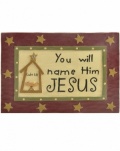 Christmas decorations are always a great gift for friends and family. This Nativity Plaque has a simple design, with a beautiful message. Perfect for any home, as it will add that little touch of Christmas spirit, whilst also feeling very personal and unique!
Winter on the Canal Christmas Cards - Pack of 10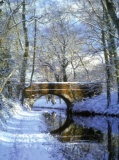 This holiday season, we have several different packs of Christmas greeting cards. The Winter on the Canal pack includes 10 cards and features a beautiful snowy winter scene on the front of each card.
Inside the card, the verse reads:
"She brought forth her firstborn son and wrapped Him in swaddling clothes and laid him in a manger." - Luke 2:7
The greeting inside reads: Happy Christmas.
Mighty God Christmas Cards - Pack of 10

This vibrant pack of Mighty God Christmas cards from Just Cards Direct includes 10 greeting cards with a verse that reads:
"For unto us a Child is born, unto us a Son is given; And the government will be upon His shoulder. And His name will be called Wonderful, Counsellor, Mighty God, Everlasting Father, Prince of Peace." - Isaiah 9:6
The greeting inside reads: Wishing you Peace and Joy this Christmas.
Just Cards Direct is a company whose aim is to bring Justice, dignity and hope to the disadvantaged. As a company, we work in partnership with card-making projects in Africa, selling handmade and printed cards worldwide. We give the majority of our profits to Christian charities working in the developing world.
Light of the World Christmas Cards - Pack of 10

This colourful and playful pack of Christmas cards is another great option this holiday season, as they remind us of Jesusí light throughout the world. Inside each card, the verse reads:
"When Jesus spoke again to the people, he said. "I am the light of the world. Whoever follows me will never walk in darkness, but will have the light of life." - John 8:12
The greeting inside reads: With Christmas Greetings.
Majesty Christmas Cards - Pack of 10

And finally, to round up our greeting cards this holiday season, we have our Majesty Christmas Cards. The pack comes with 10 cards in total, and is ideal if you are looking for something more simplistic yet eclectic. The verse inside reads:
"For to us a child is born, to us a son is given, and the government will be on his shoulders. And he will be called Wonderful Counsellor, Mighty God, Everlasting Father, Prince of Peace." - Isaiah 9:6
The greeting inside reads: With Christmas Greetings.